Danske Klar - Custom Made Timepieces
Silver & Gold Present
Regular price
€289,00 EUR
Regular price
Sale price
€289,00 EUR
Unit price
per
Sale
Sold out
Silver and Gold Present represent the gentleman and lady best timekeeper choice. The name has a particular meaning. Silver and Gold are meant to represent the color you choose, and Present represents the main function of a timepiece, to keep present time at a glance; and a perfect first choice for a gift.
This piece of art is perfect for birthdays, anniversary, work promotions gifts, and many more occasions.
We have equipped this timepiece with the Swiss Caliber Ronda 763, with 5 jewels and gold plated bridge. This movement has 48 months power reserve, and is known as extremely reliable and long lasting, and the case can withstand every day life, thanks to the coated copper construction.
Together with the watch you will receive the Danske Klar Original leather wallet, the certification and warranty card (valid for 3 years) and the microfiber cloth.
Silver and Gold Present have a weight of 36 grams, a diameter of 42 mm and a thickness of 13,3 mm.
Serial Numbers:
Silver and Gold Present are designated as SH03. Serial Horologerie #3.
Share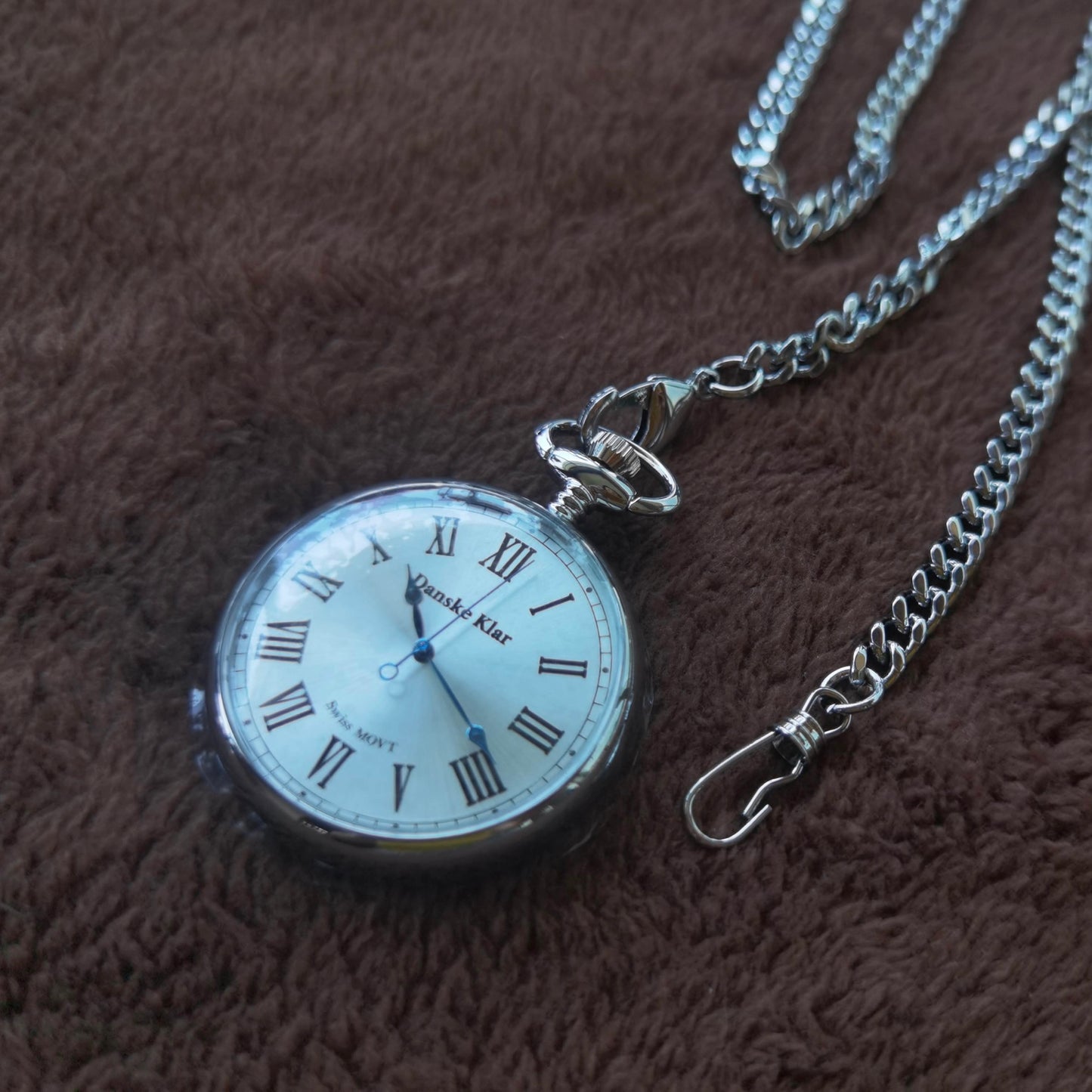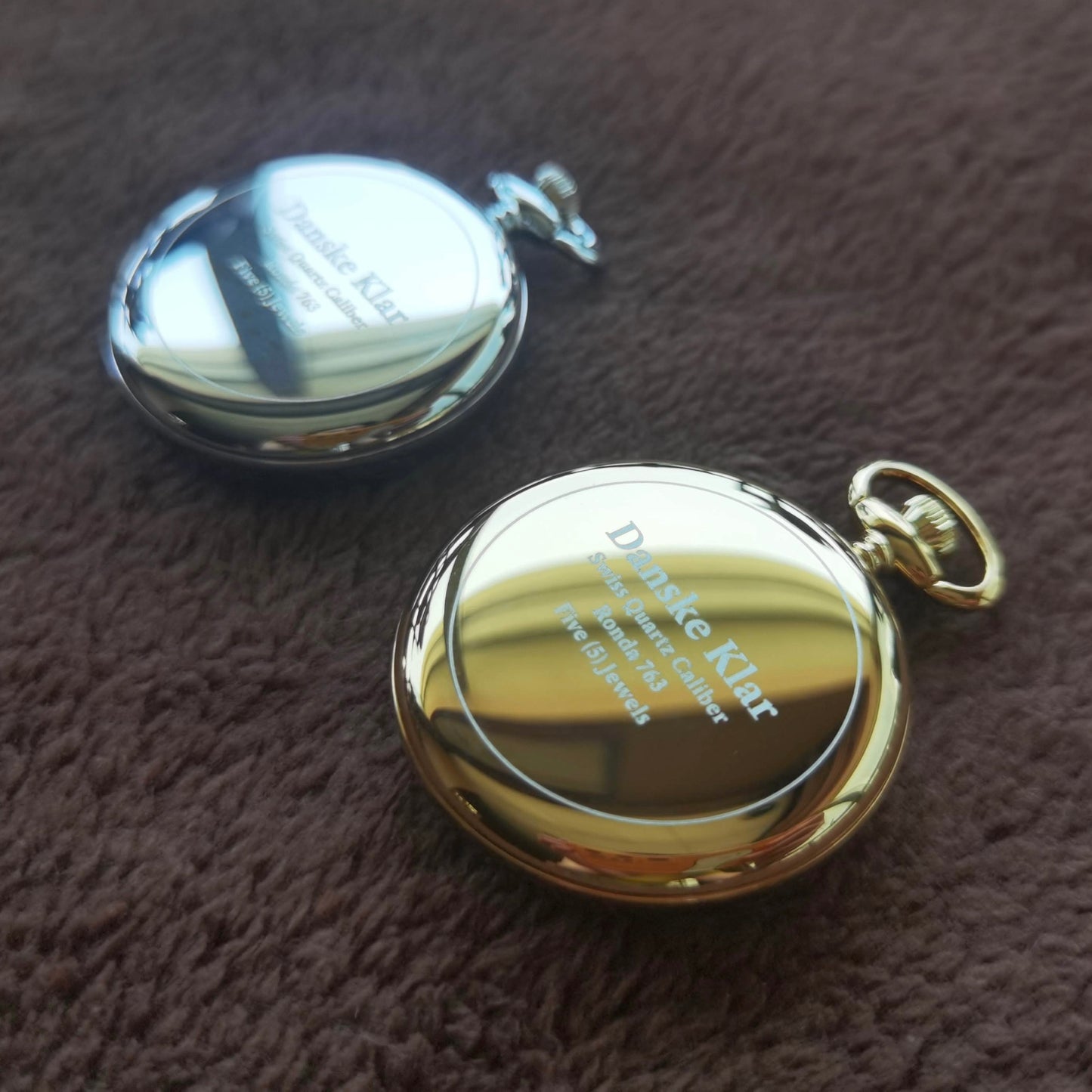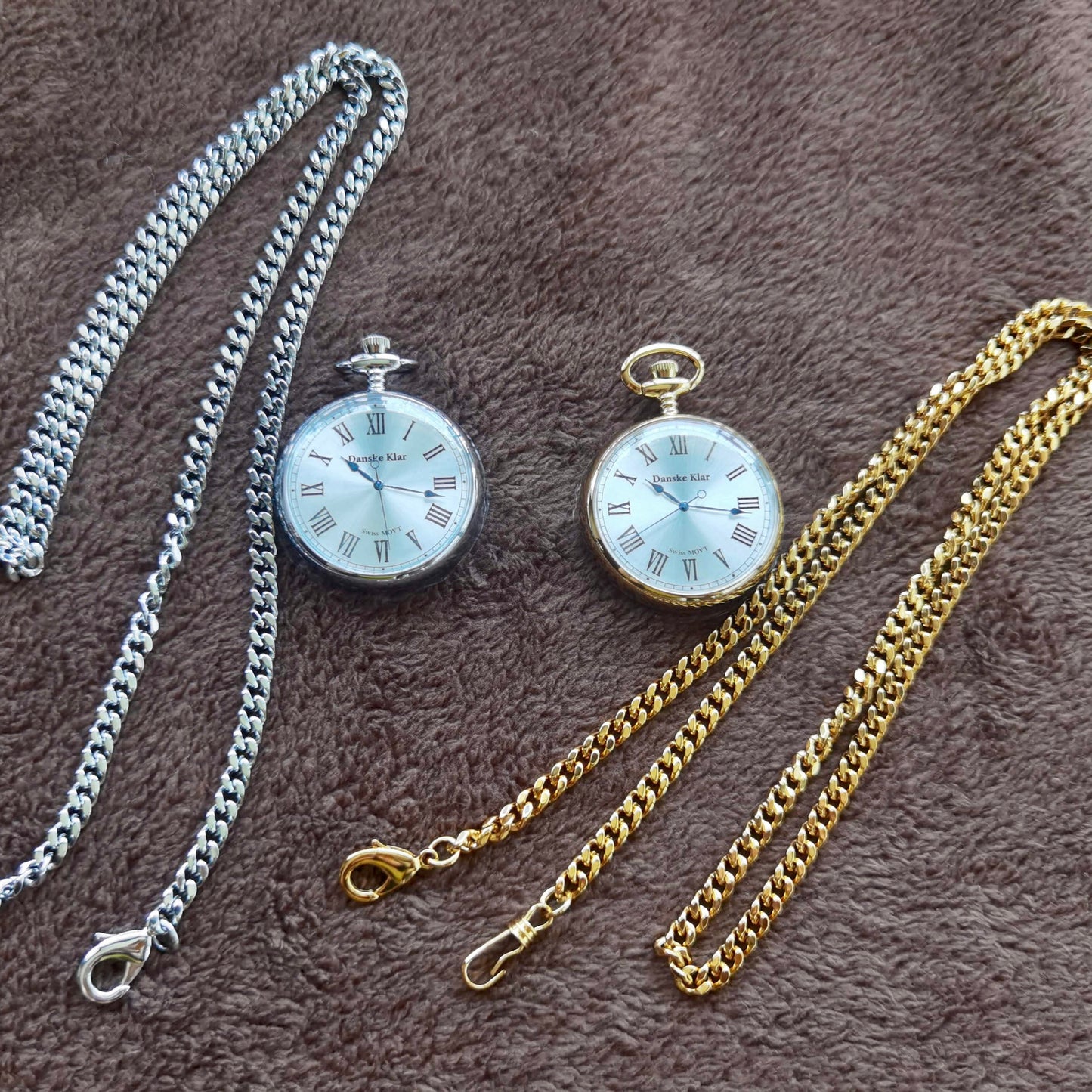 Here the answer to the most common questions
How long does it take to receive the watch?

Silver and Gold Presents are shipped in 3 working days (when in stock) and should be delivered in 7/14 days depending from your location.

Shipping time of hand assembled timepieces, because the number of possible variants and personalizations, can vary from 15 to 60 days (often is around 20 days). You should receive the watch in 7/14 days after the package has left our warehouse, depending from your location.
Is the shipping traced and safe?

Absolutely yes. Safe and traceable.
How does return policy works with your products?

Beside Silver and Gold Present (our pendant/pocket watch) all our timepieces are hand made, and customized as your preferences. Being products of craftsmanship (with occasional engravings, with a different strap as required by you, sometimes hand made, or regulated to fit you perfectly, with step by step customization in real time with our agents, etc….) our hand made timepieces are unfortunately not covered by a return policy. But you CAN definitely contact us if you are unsatisfied when you receive the watch, and we will consider your case, possibly coming to an agreement with you. We ALWAYS reply.

Silver and Gold Present can be returned within 14 days if

-the plastics are not being removed;

-the packaging is immaculate,

-and if the watch has not being used.

Contact us to receive a return form, so you can ship us back the package.

In any case, we record and document the state of our watches and packages before any shipping, to protect us, and also to protect you from damages caused by the courier.
How long is the warranty service on your watches?

We cover defects and functional mistakes in a period of 3 years from the date of purchase. We do not cover water damage and accidental damages caused by the customer. We are able to detect in which occurrence every malfunction happened.